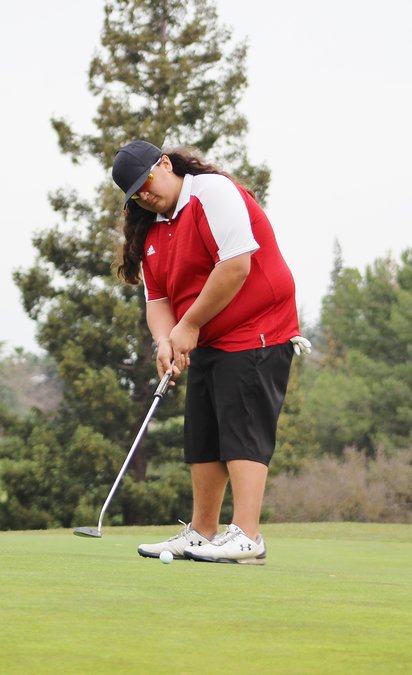 In their first official action of the 2019 season, the Oakdale High School boy's golf team turned in a winning performance. On Monday, Feb. 25 the season began with the Valley Oak League #1 Tournament. The 18-hole tournament was played at Oakdale Golf and Country Club under cloudy skies and was hampered at times by high winds. But neither the elements nor the six other Valley Oak League teams could slow down the defending VOL champions. Oakdale won the tournament with a team score of 425, 110 strokes better than second place East Union (535).
It was a par 72 course and for Mustang senior Calvin Reed, he was seven over and finished in second place overall. Reed shot a 36 on the front nine and 43 on the back nine. Teammate Ryan Meyer, a sophomore, was two strokes behind Reed and finished the day at 81 and finished in third overall. Meyer struggled on the front nine with a 44 but finished the tournament strong on the back nine with a 37. Teammates Ryan Wheatley and Tristan Jaramillo placed fourth and fifth on the day, respectively. Freshman Wheatley kept a steady pace through 18 holes, as he shot a 42 on the front nine and 40 on the back nine for a score of 82. Senior Jaramillo, who has golfed all four years, was right behind Wheatley for fifth place. He shot a 41 on the front nine and a 44 on the back nine. Rounding out the day for Oakdale was freshman Grant Weber. In his first 18-hole tournament, Weber shot a 100 on the day. He placed in the top 10 as he finished in eighth place shooting 47 on the front nine and 53 on the back nine.
Other team scores were Central Catholic (567), Sierra (614), Kimball (637), Weston Ranch (705) and Manteca (no score). Oakdale returns to the links on Monday, March 4 for VOL #2. The 18-hole tournament will take place at Tracy Golf and Country Club with a shotgun start of 10:30 a.m.
On Monday, March 11 the team will play in a non-league tournament at Diablo Grande Golf Course in Patterson for the 2019 Yellowjacket Invitational.