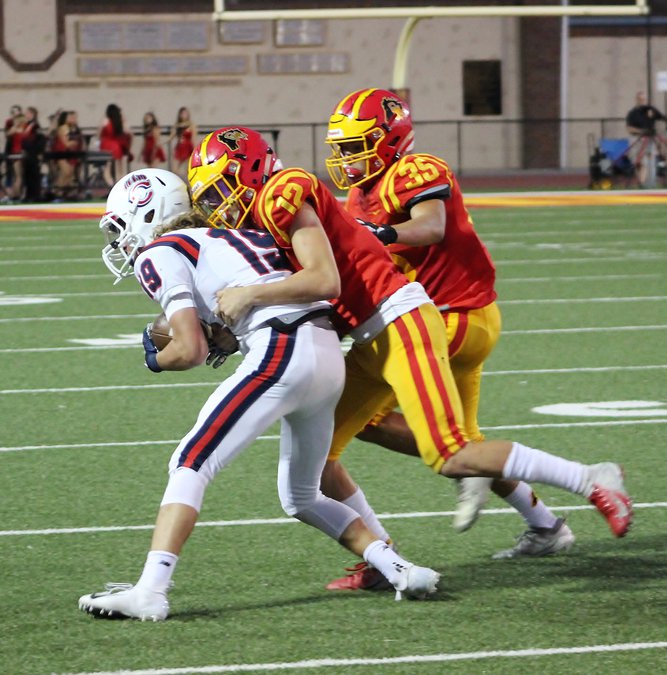 The final non-conference – way out of conference – game of the season for the varsity football Mustangs took place on Friday night inside The Corral. Oakdale hosted Parker Colorado's Chaparral High School on Sept. 7 in front of a large crowd. The Mustangs and Wolverines battled to a 28-20 slugfest with Oakdale coming out on top.
The two teams exchanged touchdowns in the first quarter as Oakdale struck first when Hayden Knittel found Max Moore from 10 yards out with 5:39 left in the first quarter. With 1:23 left to play, Chaparral tied the game on a quarterback keeper by Konnor Ruth.
Sophomore Zeke Saffar continues to impress early in the season as he turned on the burners for a 47-yard rushing touchdown to double up the Mustangs lead to 14-7 with 11:16 left in the first half. That was the only score of the quarter, as the teams headed to the locker rooms with one touchdown separating them.
The third quarter saw Oakdale's Cameron Snow with an interception at midfield to stop a Wolverines drive; however, Oakdale coughed up the ball moments later. The Wolverines scored the only points of the third quarter on a Dylan Smithwick three yard rush to tie the game at 14 with 5:07 left in the third.
Oakdale's rushing attack and Wing-T style of play took over in the second half as Caleb Kuppens found the end zone from three yards out to regain the lead for the Mustangs. With a 20-14 advantage, Moore powered his way through the Wolverine front line and their secondary with a 36-yard run to go up 28-14 following the successful two-point conversion.
Smithwick scored again from three yards out to draw the visitors within eight. The hopes of a dramatic Wolverines come back came up empty, however, when Snow recovered the onside kick, to seal the win for Oakdale.
"I just saw the bounce and jumped on it," said Snow.
Coach Trent Merzon was pleased with his team's effort.
"Man I tell you, that was a hard fought game, these kids did not quit," Merzon said. "That's a talented (Wolverines) team that showed grit and they tested us. That's why I like having these out of section games because it prepares us for playoffs and really pushes us."
This Friday night, the Mustangs open up Valley Oak League play when they travel to Manteca to take on East Union. Kickoff is scheduled for 7 p.m.